Unimpressive progress last week, but progress nonetheless. Attended to matters clerical/administrative, then inched forward with some notes on the next project.
I was kinda hoping I'd be able to start drafting on September 1st, leaving me four months to get in a good 80K words. But I'm nowhere near ready for that yet. I'm still not 100% sure this thing is a novel. At this rate, the next ice age may come before I finish. I was encouraged, however, by the appearance of my opening, which showed up just this morning. So there's that.
Back into dream time for me.
No updates for Write Club.
Actually, that's not true. I don't hate it at all. Last year at this time, I posted the following: "Mark it down, people: the Big XII is the walking dead. If it survives more than five years, I'll be surprised."
Guess what? It's looking like that was an optimistic estimate.
Back from Reno, recuperating from WorldCon.
Things I did and didn't do there:
I did, along with Richard Lovett, lead a section of the writing workshop, whereat we eviscerated critiqued three stories. I did not, however, chortle in mad glee while doing so. As far as you know.
I did see several boatloads of friends and colleagues. By the end of Wednesday, my head was spinning from the many enthusiastic meetings and greetings.
I did not get to spend near enough time with everyone.
I did go to many parties.
I did not get enough sleep.
I did not get scheduled for any panels, but I did participate in one, anyway. Blame Carrie Vaughn for this. When one of the scheduled panelists couldn't make it, Carrie called me out and forced me, at knifepoint and with zero preparation*, to join her and Brandon Sanderson in a discussion of creating gods and godlike characters. Oh, and then Brandon texted Patrick Rothfuss and got him to join us, too. So we wound up with a panel consisting of a Wiccan priest, Carrie, Brandon, Patrick . . . and me. And I had to adlib in front of a packed room.
I did manage to have a lot of fun on that panel, after all. And for the rest of the con, numerous people, many of them complete strangers, complimented me for my contributions. Rather staggering, really. I've never gotten such an enthusiastic response for a panel. Truth be told, I think my fellow panelists deserve a substantial share of the credit for its success.
I did learn that John Scalzi and I were apparently separated at birth. Even though our birthdays are two years apart.
I did attend the Hugos, and cheered loudly for my friends when their names were announced. And later knelt before the mighty Mary Robinette Kowal when she arrived at the SFWA suite with her gorgeous trophy.
I did get to see Lake Tahoe.
I did not spot Fredo's body there, though I did look.
I did sit the Iron Throne. As one does. See?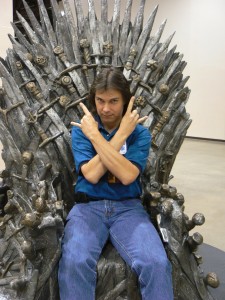 I did eat a lot of casino food.
I did not gamble. Slot machines bore me, and I'm too cheap for table games.
I did not shoot a man just to watch him die. Contrary to whatever you might have heard.
I did lots and lots of other things, too, and came home exhausted and sad to leave.
But now I'm back, and have some work to do.
No updates for Write Club.
And I'm out.
*I might have exaggerated about the whole "at knifepoint" thing. Slightly. But about the zero preparation, I'm telling the stone truth.