Launch Date: 22 July 2012
Launch Site: University of Wyoming campus, Laramie, Wyoming
Objective: Learn as much about astronomy as possible in one week.  Apply said lessons to our writing.
Personnel:
Captain and Crew
Front row, kneeling/crouching, left to right:
Geoffrey "Magnetic Fields" Landis Christian "Shuttle Pilot #1" Ready Mike "Dungeon Master" Brotherton Jim "Secretary of Education" Verley
Passengers
Standing, second row:
Doug "Indie" Farren Mary "Shall We Dance?" Turzillo Nova Ren "Altitude Lover" Suma Farah "Rosebud" Mendlesohn Ellen "Clouds" Datlow
Third row:
Jodi Lynn "Snacks" Nye Christie "Bad Influence" Yant Tiffany "Hokie" Trent Robin "Ruby Slippers" Wasserman Linda "Audioslave" Nagata Sandra "Sarah" McDonald
Back row:
Robin Christian "Hollywood" Peters Matt "Dark Matter" Rotundo Merrie "Gin and Tonic" Haskell Matt "Antimatter" Kressel Jake "Willie Mosconi" Kerr Michael "Shuttle Pilot #2" Kurland
Photo by Glen "Utilikilt" Lehmitz
Nicknames courtesy of yours truly (except for Antimatter and Dark Matter, which callsigns were bestowed upon Matt Kressel and I).
Mission Highlights, aka Awesomely Cool Stuff, in no particular order:
Visiting WIRO, the Wyoming Infrared Observatory, and gazing into its 2.3 meter primary mirror.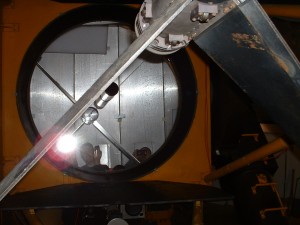 Visual aid
(photo by yours truly)
Seeing the Andromeda Galaxy through night vision goggles, low in the northern sky.  Said goggles had to be repeatedly pried from my hands.
Spectroscopy.
Getting the inside scoop on the Spirit and Opportunity missions from Geoffrey Landis.
Getting a story idea during a Geoffrey Landis lecture on terraformation.
Figuring out the division-by-zero fallacy on the chalkboard all by myself.
Extrasolar planets, detection of.
Learning that spiral arms of galaxies are actually stationary shock waves that initiate star formation.  Whoa.
Jim Verley's lectures on education and misconceptions.  Fantastic stuff.
Guest lecturer Ruben Gamboa's presentation on amateur astronomy.  Where are my binoculars?
Mike Brotherton's basement.  Must be seen to be believed.
A 3-mile hike through a place called Vedauwoo.  Nothing to do with astronomy, but quite pretty.  See?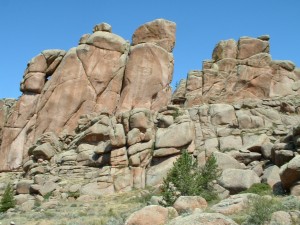 Scenic beauty (photo by yours truly)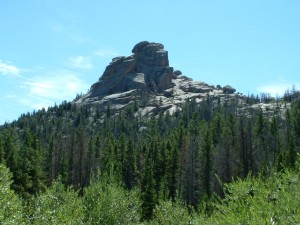 More scenic beauty (photo by yours truly)
Good food, libations, meaningful conversations, and general frivolity at various Laramie establishments, including a sports bar improbably named The Library.
Da Gang at Da Library (photo by Jody Lyn Nye)
Splashdown: 29 July 2012
Results: Brain bursting with new information.  Tremendous fun attained.  Missing my new friends.
Mission accomplished.
8 Responses to "Launch Pad 2012 Debriefing"