As expected, day job stuff ate most of my writing time last week.  The less said about that, the better.  Moving on.
I did manage some overdue database updates and got a story in the mail.  So that was good.  I might shove out one or two more manuscripts this week, and then finally begin the rewrite process of Apocalypse Pictures Presents.  I suspect I have a good story in there somewhere, but I also suspect that a great deal of work will be needed to uncover it.  And since no one else seems to be volunteering, it looks like a job for me.
Fine.  I see how y'all are.
No updates for Write Club.
See you ingrates later.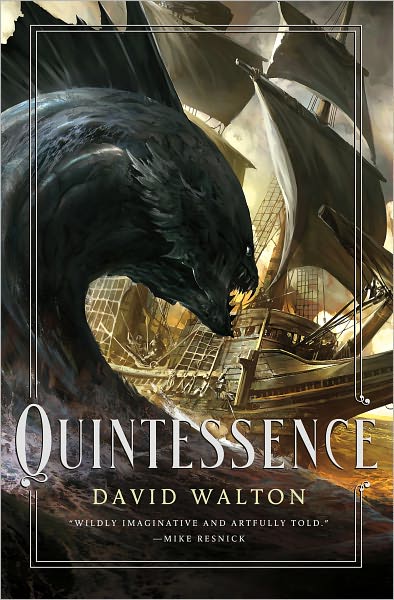 One of the coolest things about being a writer and having a lot of writer friends is the opportunity to read and critique great stories long before they ever sell to publishers.  Stories like David Walton's Quintessence, just released from Tor Books.
I got to read and critique this novel a few years back.  I was not the least bit surprised when David later announced that it had sold to Tor.  It seriously rocks.
Here's the jacket blurb:
Imagine an Age of Exploration full of alchemy, human dissection, sea monsters, betrayal, torture, religious controversy, and magic. In Europe, the magic is thin, but at the edge of the world, where the stars reach down close to the Earth, wonders abound. This drives the bravest explorers to the alluring Western Ocean. Christopher Sinclair is an alchemist who cares only about one thing: quintessence, a substance he believes will grant magical powers and immortality. And he has a ship.
This is a wondrously imaginative world David has created.  Do check it out.

Shipped From Earth I Have Arisen back to my editors, along with my hopes.  I've had pretty good luck with requested rewrites; I'm usually able to deliver what the editor has asked for.  But this one was a bit more extensive than most, and it's always possible that they won't like my changes.
Well, I've done what I can, and if it isn't good enough, I guess I can take some comfort from the wisdom of James Ingram.
While I was at it last week, I shoved another manuscript back into the wild.  Best of luck, little story.
The rewrite of Apocalypse Pictures Presents looms, but a day job project has to take priority for the nonce.  We'll see what I can get done this week, but don't be surprised if the answer is, "Not much."
Write Club update:  Tier one bounce from Buzzy Mag.  Response time, 47 days.
And on that note . . .