Archive for September, 2013
As I continued scribbling notes for my rewrite of Apocalypse Pictures Presents, I realized something kind of important:  I have some gaps in my research.
As in, I haven't really done any.
Oh, I've done a little, sure.  But for the most part, I coasted through the first draft on what I already knew, or thought I knew.  And that's just not good enough.  It occurs to me that some of the roadblocks I'm running up against in this rewrite stem from my ignorance.
So it's time to head for the drawing board.  I can't say I'm going back to said board, since I haven't actually been there yet.  Which is, I'll admit, probably not the proper order for this kind of thing.  I'm sure I would have had an easier time with my first draft and with this rewrite had I done the legwork up front.
Ah, well.  My hindsight once again proves to be excellent.  I must enjoy the challenge, or something.
Anyway, onward.
No updates for Write Club.
I'm out.
Current Music: "A World of Fantasy"--Triumph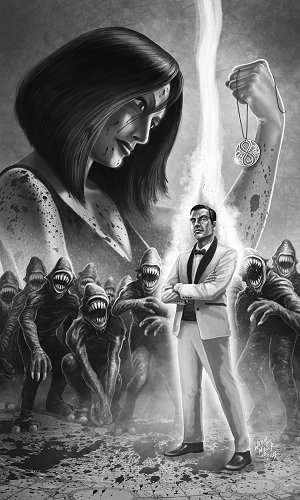 Issue 35 of Orson Scott Card's Intergalactic Medicine Show is now available, featuring my story "Wet Work:  A Tale of the Unseen."
Here's a taste:
Shambling, vaguely man-shaped creatures parted before Ellie's H2 as she pulled it into a vacant space in the mansion's paved courtyard. Her headlights picked out eyeless faces, gaping jaws that revealed rows of teeth, skin that literally hung and drooped off the creatures' limbs, giving them a half-melted appearance. They bore no resemblance to any Unseen in Ellie's experience. And they were everywhere, a crowd of at least forty of the things. Even with the windows shut against the chill October night, she could smell them—a rotted, carrion stench.
Yeah, it's a little spooky.
And how do you not love that artwork by M. Wayne Miller?  I have to say, it thoroughly creeped out my wife.
Here's a peek at the table of contents:
You have to subscribe to read the stories, but your subscription also buys you access to all the back issues.  Not a bad deal, that.
Enjoy.
Current Music: "Kill the King"--Rainbow
Launch Pad, an anthology of stories by graduates of the Launch Pad Astronomy Workshop, and featuring my story "Doppler Shift," is now available from Dark Star.
Here's the jacket copy:
"Mankind is finally coming up against the limits of the physical world."
-From "Doppler Shift," by Matthew S. Rotundo
But the imaginations of the writers within these pages reach far beyond those boundaries. The Launch Pad Astronomy Seminar aims to bring more hard science into science fiction. Here are twelve stories that look into our future and find humor, pathos, grand determination and genuine courage, by some of the most creative writers in science fiction today, all veterans of the Launch Pad program.
Introduction by Kevin R. Grazier, Phd
with stories by:
Geoffrey Landis
Matthew Kressel
Mike Brotherton
Mary Turzillo
Jay Lake
Tiffany Trent
Jake Kerr
Michael Kurland
Sandra McDonald
Doug Farren
Matthew S. Rotundo
Jody Lynn Nye
Do be sure to check out Jody Lynn Nye's story, in which the entire Launch Pad class of 2012, including yours truly, gets Tuckerized.
Currently, you can only get it as an ebook.  I'm told that a dead-tree version will be available later.  Details when I get them.
A portion of the proceeds go to benefit the Launch Pad workshop, which is a Good Thing.  And hey, it's only $5.99 (cheap).
So, you know—go forth and buy.
Current Music: "Moonchild"--King Crimson