Archive for May 8th, 2014
Hey, look!  It's the cover for Alembical 3!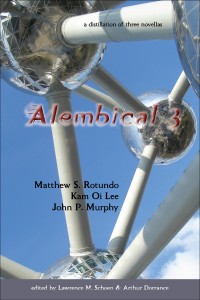 Cover image Jakub Šram, cover design Lawrence Schoen
Groovy, no?
Alembical 3 is the latest in a series of anthologies from Paper Golem devoted exclusively to novellas.  It contains my story "From Earth I Have Arisen," as well as work from Kam Oi Lee and John P. Murphy, and it's going to press as I type this.
Just in case, you know, you might want to add it to your wish list, or something.
Current Music: "Take You to the Limit"--Y & T