Another 5300 words last week, which prompts a special announcement from Magic Meter:
Yes, folks, the second draft of Apocalypse Pictures Presents is finally done, as of 6/22/14, 10:46 pm, CDT.
And with that, APP takes the crown for the Most Difficult Project I've Ever Worked On.  Hands down.  Without question.  Nothing else even comes close.
And with any luck, nothing else ever will.
Seriously, folks—the rewrite took longer than the first draft.  And the rewrite is 7K shorter.  Jeez.
What does it mean?  Was the work demanding that much more of me?  Was I just being lazy?  Some combination of the two?  Hell, I don't know.  Ask me a year from now.
Your final snippet:
Then his feet slipped on the concrete and Gil went sprawling.
"Kill him!"  That was Ross, from the vicinity of the pit.  As if Berkowitz needed any such instruction.
I go to drink from the cask of victory.  But I go wearily.
Current Music: "Grey Seal"--Elton John
Another 3.1 K on the Apocalypse Pictures Presents rewrite, and Magic Meter says:
One more logistical hurdle to clear, and then we're down to the denouement.
The word is denouement, folks.  It's from the French.  Look it up.
Oh, never mind.  Here's your snippet:
He checked his own pistol one more time.  Fully loaded, safety off, ready to go.  He hoped he wouldn't need it; Susan had berated him repeatedly what being such a lousy shot.  But if he did have to fire it, their chances of survival would be slim, anyway.
A wash of headlight illumination at the east doors, and the drone of an approaching engine, though he did not see the vehicle.  Gil holstered his pistol—carefully—but made sure it was visible.
The engine cut off.  Car doors opened and closed.  Footfalls on the concrete outside.  Gil drew a shaky breath and wished Johnny Cascio were there.
No updates for Write Club.
Until next week, au revoir.
Current Music: "Crazy"--Gnarls Barkley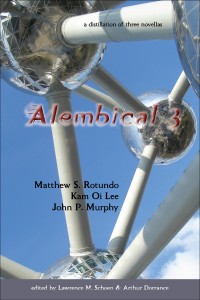 Hey, did I mention that Alembical 3, featuring my novella "From Earth I Have Arisen," and work by Kam Oi Lee and John P. Murphy, is now available from Paper Golem?
Well, it is!  Order your copy here, or from your online vendor of choice.
Current Music: "Music Man"--REO Speedwagon