Archive for February, 2016
Oscar time is upon us once again.  Here at fabulous Chez Rotundo, things are even more hectic than normal, which means my annual Academy Award post will be rather abbreviated.  But such Oscar analysis/wisdom as I have, I hereby impart to you.  You're welcome.
I've only managed to see 2 of the 8 nominees (The Martian and Mad Max:  Fury Road) this year.  But as I've said before, I never let total ignorance get in my way.  So here we go:
Best Picture
And right out of the gate, we have a very tough category to pick.  This one is usually easy, especially if you look at the precursor guild awards.  But this year, the Screen Actors Guild gave its top award to Spotlight, while the Producers Guild and BAFTA went with The Big Short, and the Directors Guild honored The Revenant.
What to make of this mess?
Honestly, I have no idea.  The safest bet would probably be The Revenant, which garnered the most overall nominations. On the other hand, The Big Short's PGA win is significant because the PGA uses the same preferential voting system the Academy uses.  On the third hand, comedies fare poorly in this category.
The last time we had this much disconnect between SAG, PGA, and DGA?  Why, it was just two years ago, actually, when American Hustle, 12 Years a Slave, and Gravity vied for the top honor.  We ended up with a rare split between Best Picture and Best Director, with 12 Years a Slave getting the big prize.  Because I'm feeling ornery, I'll make a similar prediction for this year, and go with The Big Short.
Best Director
Despite the horse race for Best Picture, it looks like Alejandro G. Iñárritu will pick up his second Oscar in a row, this time for The Revenant.
Best Actor
Here's an easy one:  SAG winner Leonardo DiCaprio will finally pick up his first Oscar, for The Revenant.
Best Actress
Brie Larson looks like a lock, for Room.
Best Supporting Actor
The SAG went to Idris Elba, for Beasts of No Nation.  But Elba wasn't even nominated for an Oscar, which leaves this category wide open.  Amazingly enough, it appears Sylvester Stallone has become a sentimental favorite, reprising Rocky Balboa one more time in Creed.  I guess that makes as much sense as anything this Oscar season.
Best Supporting Actress
In a category that has been rife with upsets in the past, the best bet appears to be Alicia Vikander, for The Danish Girl.  That's my pick, but I wouldn't be surprised to be wrong here.
Best Original Screenplay
Tom McCarthy and Josh Singer, for Spotlight.  Writers Guild winners.
Best Adapted Screenplay
Adam McKay and Charles Randolph, for The Big Short.  Also WGA winners.
Best Animated Feature
Inside Out.  Say it with me, kids:  never pick against Pixar.  At least, not in this category.
Best Foreign Language Film
Everyone seems to be talking about Hungary's Son of Saul.  I'll go with it, but for this category, you could just easily throw a dart at a dartboard and pick a winner.
Best Cinematography
I thought Emmanuel Lubezki's win for Birdman last year was a bit of reach; the camera work struck me as too self-indulgent by half.  That said, he's up for an Oscar again this year for The Revenant, and he has a new gimmick:  the film was shot almost entirely with natural light.  I'm guessing that will be enough to garner another win for him.  Certainly the American Society of Cinematographers thought it worth honoring.
Best Production Design
Period pieces tend to do well here.  Much has been made of Mad Max: Fury Road, and indeed, it did win an Art Directors Guild award for Fantasy Film.  But The Revenant won the ADG award for Period Film, and the Academy tends to pretend science fiction doesn't exist.  So I'll go with Jack Fisk, for The Revenant.
Best Film Editing
Nine of the past 12 Eddie winners for best edited dramatic film have gone on to win an Oscar.  This year, that would favor Margaret Sixel, for Mad Max:  Fury Road.  But again . . . it's science fiction.  Ew.  I'm going with Hank Corwin, whose work on The Big Short won an Eddie for comedy.
Best Costume Design
Celebrated costumer Sandy Powell is competing against herself this year, for Cinderella and Carol.  And though Oscar's disdain for SF is well established, flashy often wins in this category.  So I'm going with Jenny Beavan, for Mad Max:  Fury Road.
Best Makeup & Hairstyling
Score another win for flashy:  Mad Max:  Fury Road.
Best Original Score
What's that you say?  Ennio Morricone has never won an Oscar?  That's good enough for me.  Morricone, for The Hateful Eight.
Best Original Song
Lady Gaga appears to be the favorite, for "'Til It Happens to You," from The Hunting Ground.  But I wouldn't be surprised to see Sam Smith win for "Writing's on the Wall," from Spectre.  Still, I guess I'll go with Gaga.
Best Documentary Feature
Amy looks to win this one.
Best Documentary Short
A pick 'em category.  I'm going with Body Team 12.
Best Sound Mixing
The Revenant, I think.  The Cinema Audio Society like it, and it's Best Picture front runner.
Best Sound Editing
The Revenant could just as easily snap up this one, too, but I'm guessing it will go to Mad Max:  Fury Road.
Best Visual Effects
Mad Max: Fury Road.  It's one category SF films are allowed to win, and Mad Max is also up for Best Picture.
Best Short Film (Live Action)
I've seen comedies win this category before, so I'm leaning toward Stutterer.
Best Short Film (Animated)
Um.  World of Tomorrow.  Because who knows?  Pixar's Sanjay's Super Team is also nominated, but Pixar doesn't fare as well in this category as it does in Animated Feature.
And that's all, folks.  Enjoy the show!
Current Music: "Stone the Crows"--Down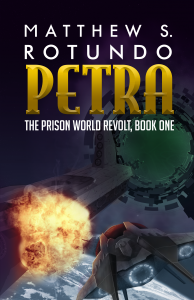 If you've been waiting for the print edition of Petra, wait no longer.  It's now available here.
Sorry it took so long, folks.  Publishing your own book has its share of rewards, but it's awfully time consuming, too.  I'll be quicker with the next one, promise.
As a refresher, here's some jacket copy:
Welcome to Petra.
It is the ultimate prison. Inmates from all of Ported Space are dumped there, forgotten, and left to survive however they can. Hope dies. Escape is impossible.
Disillusioned war hero Kane Pythen comes to Petra on a fact-finding mission, but gets caught in an uprising that threatens to expose a shattering secret. And Rolf Ankledge, Petra's ruthless warden, will stop at nothing to keep it from reaching Ported Space. If Kane involves himself, he risks losing everything he has. If he does nothing, he betrays the last shreds of his ideals.
The prison break of the millennium is on. Now Kane must race against time and vicious forces from all over Petra if he ever wants to see his wife and daughter again.
Some reminders:
If you enjoy Petra, please consider leaving a review for it, even if it's just a sentence or two.  The more reviews the book gets, the better Amazon likes it.  The better Amazon likes it, the happier Matt will be.
Also, make sure you sign up for my mailing list.  You'll be among the first notified about any new developments, such as special offers, or the release of the next book.  No spam, I promise.  Your email will never be shared, and you can unsubscribe at any time.
The Nebula nomination window has closed, but you can still nominate for the Hugos.  If you're a Hugo voter and would like a copy of Petra, hit me up in the comments.  Make sure to specify your format preference.
And of course, the Kindle edition is still available, too.
If you have any other questions, feel free to leave them in the comments.
To sum up, then:  Petra in print.  Reviews good.  Author happy.
Rock on.
Current Music: "Land of Hope and Dreams"--Bruce Springsteen
Blah blah new words blah Petra Rising.  Blah blah blah Magic Meter:
Pithy observations on writing blah blah blah.
Blah blah snippet:
Cromberg slammed the door behind him after entering.  "What the hell are you thinking?"
Kane stood at the water pump near his kitchen, working the handle, holding a small bowl beneath the spigot.  He had a washcloth draped over one arm.  The pump took its time drawing water from the well.  The previous night's fire had taken its toll.  Given Purgatory's proximity to the river, the well would refill soon enough.  At worst, he had to tolerate making a few extra pumps.  Others on Haven had it much worse.  He'd seen it during his outreach missions to the Bone Tribes.  Nonetheless, the delay annoyed him.  Emma's words still rang in his head:  We need the Portal.
"Come in," he said to Cromberg.  "Have a seat."
Write Club blah:
Tier one blah blah blah Apex, blah 11 days.
Blah snappy signoff line blah.
Blah.
Current Music: "Like a Stone"--Audioslave