Archive for the 'Uncategorized' Category
The last stop on the 2017 Rotundo World Tour is just around the corner—MileHiCon in Denver, October 27-29.
I missed MileHiCon last year due to time constraints, so I'm very excited to finally return. Here's my schedule:
Friday, October 27th
2:00 pm — 3:00 pm   When Movie Versions Go Wrong (Mesa Verde B)
What common elements seem to plague the worst film adaptations you've seen?  

What challenges specific to science fiction/fantasy/horror have proven especially problematic for film adaptations?  

Can a movie diverge vastly from the book and still be good on its own merits? Are there times alterations improve the material or are necessary for a successful switch in media?
3:00 pm — 4:00 pm   The Finer Points of Editing (Mesa Verde B)
What steps can you take to improve your own editing? When do you really need outside help? To what extent can an author really self-edit effectively?
Sunday, October 29th
1:00 pm — 2:00 pm   The Worst Movie You Ever Paid to See in a Theater (Mesa Verde C)
We're not talking late-night cablesurfing or a Netflix misfire, but those movies you actually paid money to see in a theater . . . what was the worst? (And did you sit through to the end?)
Wow, this one should be fun.  Rest assured, I'll have a list.
2:00 pm — 3:00 pm   Group Reading & Discussion:  Urban Fantasy  (Wind River B)
A reading, you say?  Hey, you know me:  if I'm doing a reading, I'm bringing treats.
And of course, I'll be hanging around the bar, the con suite, the dealers' room, wherever.  I might even have books for sale.
Hope to see you there!
Current Music: "Look at Little Sister"--Stevie Ray Vaughan & Double Trouble
Am quite tickled to announce that I've sold "The Hills" to the Enter the Aftermath anthology from TANSTAAFL.
Enter the Aftermath is the second in a planned 3-book series of anthologies.  The first, Enter the Apocalypse, came out earlier this year.  Following Enter the Aftermath will be Enter the Rebirth.
"The Hills" was my 24-hour story from Writers of the Future.  For those unfamiliar—when I was in Hollywood for the Writers of the Future workshop, we were tasked with writing a full story in just 24 hours.  I blogged about it here and here and here.
Anyway, I've always had a soft spot in my heart for this story. Many years ago, I had submitted it to Edmund at Intergalactic Medicine Show, who told me it read like the first chapter of a novel. I considered his remarks carefully and discovered he was quite wrong. It's actually the second chapter of a novel—Apocalypse Pictures Presents, which I may blogged a bit about, too.  So there, Edmund. Nyah, nyah, nyah.
But like I said, I always loved the original short story, and it seemed like a good fit for this anthology. And the editor apparently agrees.
Been a while since I've sold some short fiction. So yay. And who knows? Maybe this bodes well for the novel.
Current Music: "Cemetery Gates"--Pantera
Spring is here, so what the heck:  I'm having a sale on the Petra books, now through May 7th. The ebooks are going for just $.99. That's right; a measly buck gets you an ebook edition of either Petra or Petra Released.
So if for some weird reason, you don't have your copies yet, well, now's your chance! See the links below for your vendor of choice.
Sale ends May 7th, so don't delay!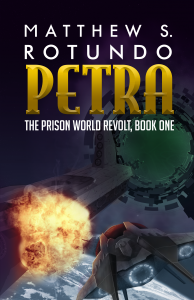 Where To Buy Petra
Buy Petra Released
Current Music: "Yours Is No Disgrace"--Yes