If you're looking for a non-Kindle version of Petra Released, today's your lucky day!  You can now find it at any of the following outlets:
Buy Petra Released
Enjoy!  And if you like it, please leave a review. Heck, leave a review even if you don't like it.
Current Music: "Ride the Lightning"--Metallica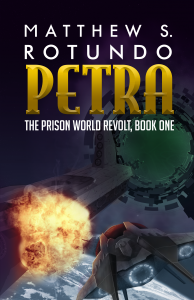 Some of you might have been wondering when the ebook edition of Petra might become available epub (i.e., non-Kindle) format.  Wonder no more!
Petra is now available in your most popular ebook outlets, like Barnes & Noble, Kobo, Smashwords, and more.  You can even find it in the iTunes store.  And of course, if Kindle's your thing, we've got you covered there, too.
And so I continue to build my nefarious media empire . . .
Current Music: "Stone the Crows"--Down
Now that all three installments of my Calico in Conversation interview are live, it's time for a little game . . . and you could win a free ebook copy of either Petra or Petra Released!
See, it's a scavenger hunt.  All you have to do is correctly answer three questions about the interview, and you will be entered in a drawing for your choice of either ebook.  You only have until August 30th to enter, though, so hurry.
(They're easy questions, don't worry.)
And the more people who enter, the more freebies will be available.  See here for details and spread the word.
What are you waiting for?  Click here to get started!
Current Music: "Wild One"--Thin Lizzy