Posts Tagged 'publications and sales'
Am quite tickled to announce that I've sold "The Hills" to the Enter the Aftermath anthology from TANSTAAFL.
Enter the Aftermath is the second in a planned 3-book series of anthologies.  The first, Enter the Apocalypse, came out earlier this year.  Following Enter the Aftermath will be Enter the Rebirth.
"The Hills" was my 24-hour story from Writers of the Future.  For those unfamiliar—when I was in Hollywood for the Writers of the Future workshop, we were tasked with writing a full story in just 24 hours.  I blogged about it here and here and here.
Anyway, I've always had a soft spot in my heart for this story. Many years ago, I had submitted it to Edmund at Intergalactic Medicine Show, who told me it read like the first chapter of a novel. I considered his remarks carefully and discovered he was quite wrong. It's actually the second chapter of a novel—Apocalypse Pictures Presents, which I may blogged a bit about, too.  So there, Edmund. Nyah, nyah, nyah.
But like I said, I always loved the original short story, and it seemed like a good fit for this anthology. And the editor apparently agrees.
Been a while since I've sold some short fiction. So yay. And who knows? Maybe this bodes well for the novel.
Spring is here, so what the heck:  I'm having a sale on the Petra books, now through May 7th. The ebooks are going for just $.99. That's right; a measly buck gets you an ebook edition of either Petra or Petra Released.
So if for some weird reason, you don't have your copies yet, well, now's your chance! See the links below for your vendor of choice.
Sale ends May 7th, so don't delay!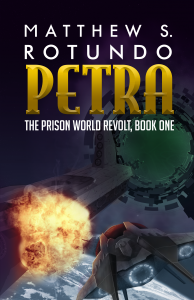 Where To Buy Petra
Buy Petra Released
If you're looking for a non-Kindle version of Petra Released, today's your lucky day!  You can now find it at any of the following outlets:
Buy Petra Released
Enjoy!  And if you like it, please leave a review. Heck, leave a review even if you don't like it.