Posts Tagged 'publications and sales'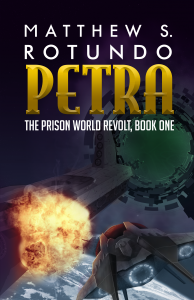 Some of you might have been wondering when the ebook edition of Petra might become available epub (i.e., non-Kindle) format.  Wonder no more!
Petra is now available in your most popular ebook outlets, like Barnes & Noble, Kobo, Smashwords, and more.  You can even find it in the iTunes store.  And of course, if Kindle's your thing, we've got you covered there, too.
And so I continue to build my nefarious media empire . . .
Current Music: "Stone the Crows"--Down
Now that all three installments of my Calico in Conversation interview are live, it's time for a little game . . . and you could win a free ebook copy of either Petra or Petra Released!
See, it's a scavenger hunt.  All you have to do is correctly answer three questions about the interview, and you will be entered in a drawing for your choice of either ebook.  You only have until August 30th to enter, though, so hurry.
(They're easy questions, don't worry.)
And the more people who enter, the more freebies will be available.  See here for details and spread the word.
What are you waiting for?  Click here to get started!
Current Music: "Wild One"--Thin Lizzy
Petra Released, the second book of The Prison World Revolt series, is now available here!
The prison world is free. Or is it?
A grieving Kane Pythen, exiled on Petra light years from his family, has found a haven among the inmates he aided in a failed escape attempt. But after a devastating attack on their settlement, he must lead a dangerous foray into Bone Tribe territory, in search of a new home before the impending winter finishes them off.
Worse, the expedition uncovers a plot to seize control of Petra that could kill millions, including Kane and his friends. The shadowy forces in Farside are on the move, too, intent on eliminating all enemies. And in Ported Space, the powerful Petra Compact is hunting for the explosive prisoner records that were smuggled offworld—which have fallen into the hands of Kane's wife, Tayla . . .
The battle for Petra has just begun. Kane and Tayla must brave merciless enemies and unlikely allies to save themselves and all they believe in.
If you enjoy the book, please consider leaving a review for it where you bought it, or on Goodreads, or on your own blog.
And if you still haven't read Petra, well, now's the time to get caught up.
So?  What are you waiting for?
Current Music: "The Fountain of Lamneth"--Rush